AuguTech delivers. With over 17 years of industry leadership, our robust and highly customizable platform successfully manages over one billion customer interactions annually.  Behind that, lies our highly skilled team of dedicated professionals; well-versed in an abundance of operating systems, networks, and databases.  If your business encounters technology, we have worked with it.  Completing diverse and multifaceted complex CRM integrations for many of the world's leading companies including: Apple, Direct TV, Aegon, Microsoft, Verizon, UPS, and more.

AuguTech's primary platform combines the functionalities of a sophisticated inbound switch and a proprietary predictive dialer into an intuitive, award-winning interface with limitless call routing capabilities, enhanced predictive dialing metrics, trouble-free IVR configurations, sophisticated call recording and call redaction requirements, and complex 3rd party software integrations.

We relentlessly focus on achieving mutually beneficial relationships with our clients.  By utilizing our in-depth expertise, we provide the tools necessary to optimize today's complex call center operations. Our engineers have developed customized technical solutions for some of the world's leading companies. 

Speak With A Product Specialist Today!
AuguTech overview
REACH NEW HEIGHTS
Our aim is focused on maintaining mutually beneficial relationships with clients. By utilizing our in-depth expertise, we provide what is necessary to optimize call center operations.  We develop customized contact center solutions to reach specified operational goals. Mobilizing contact centers of all sizes with everything needed to create vast and powerful customer connections.
The AuguTech platform is highly sophisticated yet intuitively designed for ease of use.  Our team of dedicated onboarding specialists ensure clients are fully trained and set up for success. 
AuguTech has cultivated a culture of providing superior customer service and technical support. Dedicated to each AuguTech client is a team of technical support specialists available 24/7 that cover: product documentation, case management, troubleshooting, system functionality changes, specified training, and much more.
SLEEK, INTUITIVE INTERFACE
No more long, tedious training sessions for agents. Our intuitively designed user interface has that covered, making it seamless and easy to navigate for agents, coupled with an abundance of customizable reports for managers.
The AuguTech platform has become a leading solution for complex integrations into all aspects of business software applications and call center software/CRM platforms. Combining these deep-rooted integrations along with the support of our highly awarded technical team, Augutech has completed hundreds of successful deployments.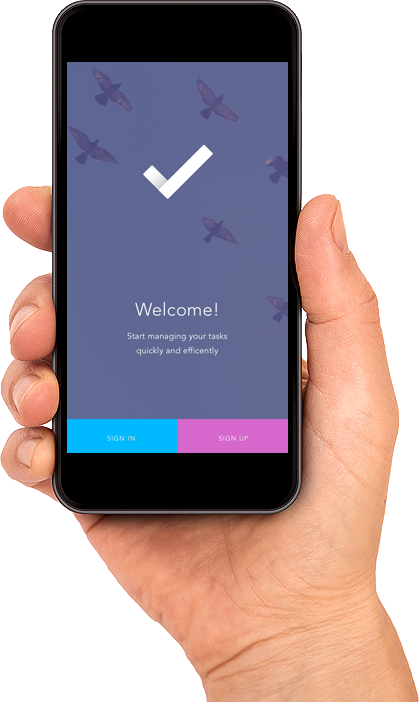 AUGUTECH'S intuitive INTERFACE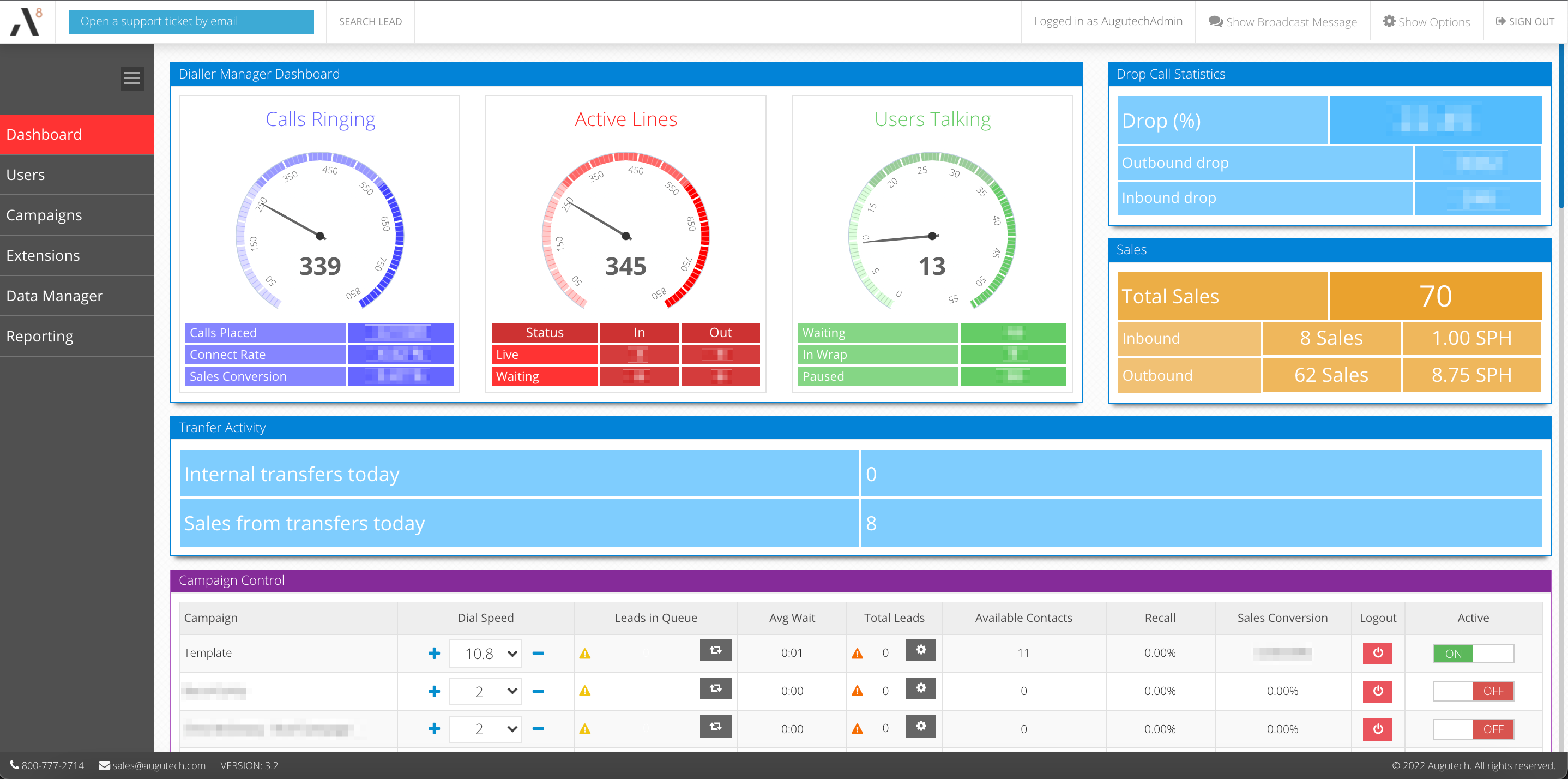 Administrator Interface
Augutech understands the importance of empowering each member of the administrative team.  With these members undertaking the responsibility of ensuring all aspects of the contact center are profitable and running efficiently, AuguTech streamlines reporting metrics, dialing & lead controls, live agent monitoring, and seamlessly delivers them, and much more, to managers.  Discover all the tools necessary for exponential growth, and unlimited scalability, with AuguTech.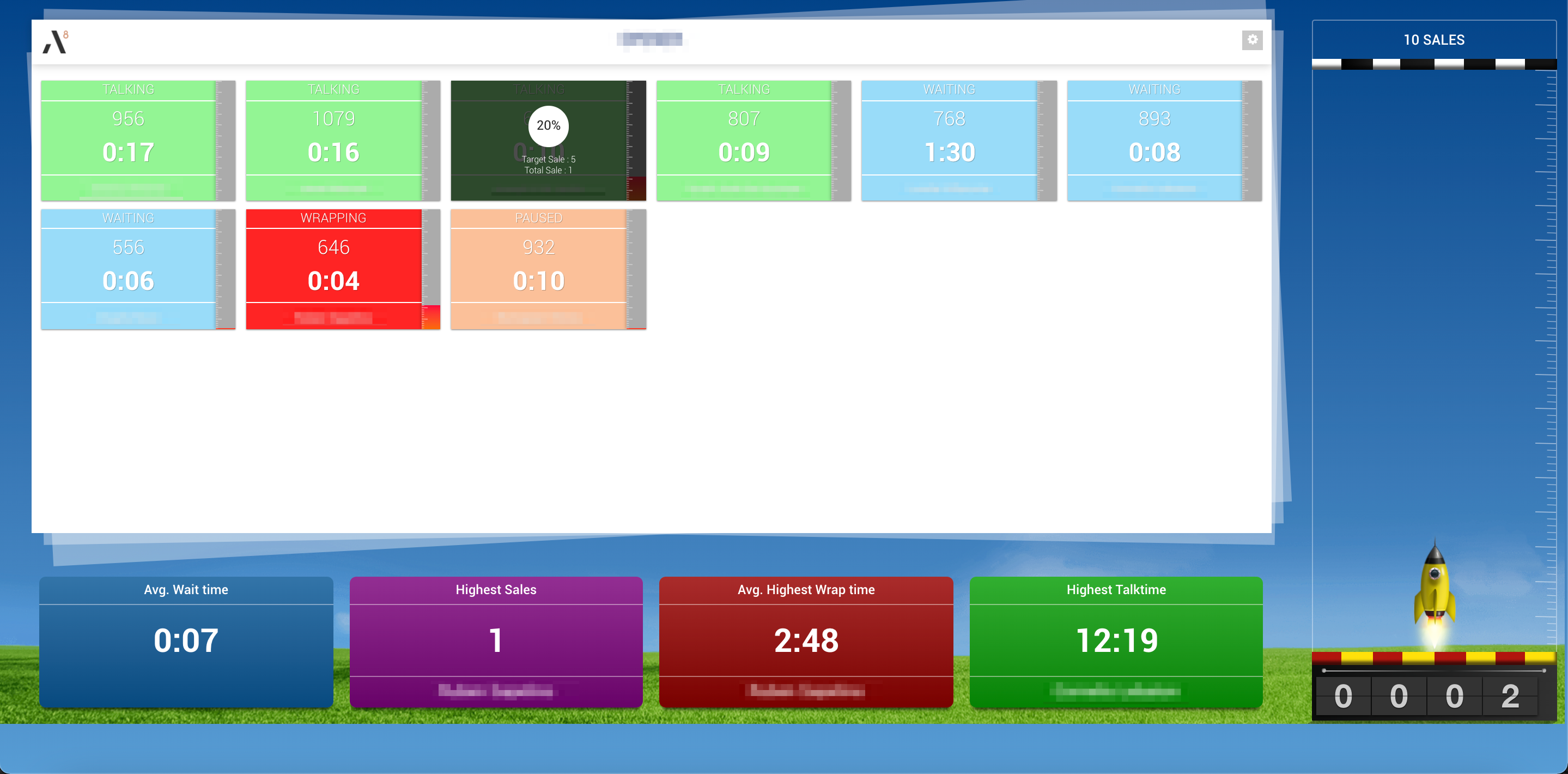 Wallboard & Gamification
Have AuguTech's productivity driving wallboard displayed within your contact center on a TV, projector, or any monitor viewable by all agents.  This has proven to encourage friendly competition, and increase overall workspace motivation.  Managers can configure and select from an array of reporting metrics for agents to monitor overall or specified performance. Display analytics such as: leaderboard of daily sales, highest talk time, longest wrap-up time, etc.  Coupled with gamification, managers can incentivize leaders based on daily quotas.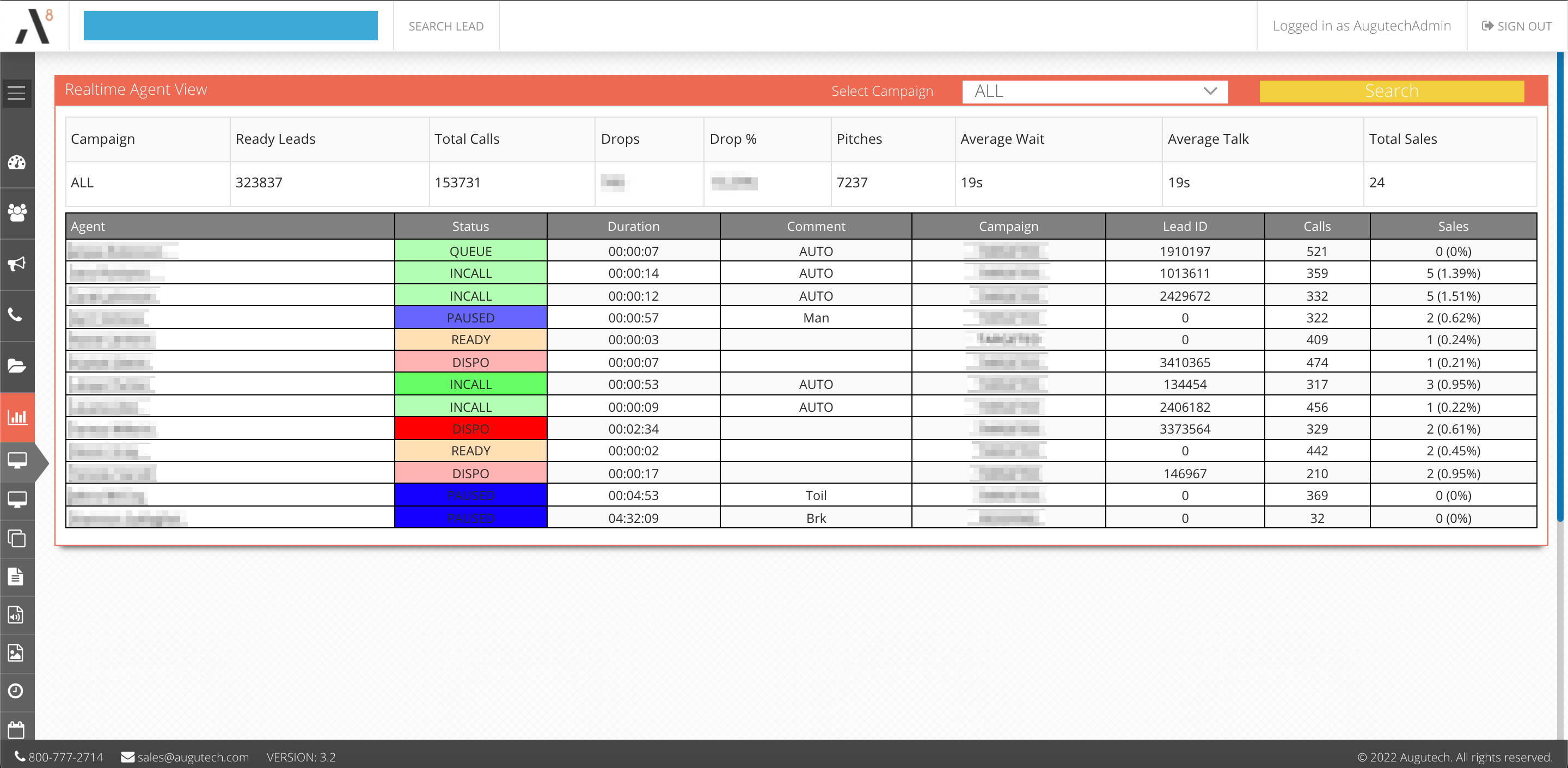 Real time agent view
Be confident that high quality calls are being made with AuguTech's call monitoring and recording capabilities.  Listen in, barge in, review calls, prioritize calls and much more.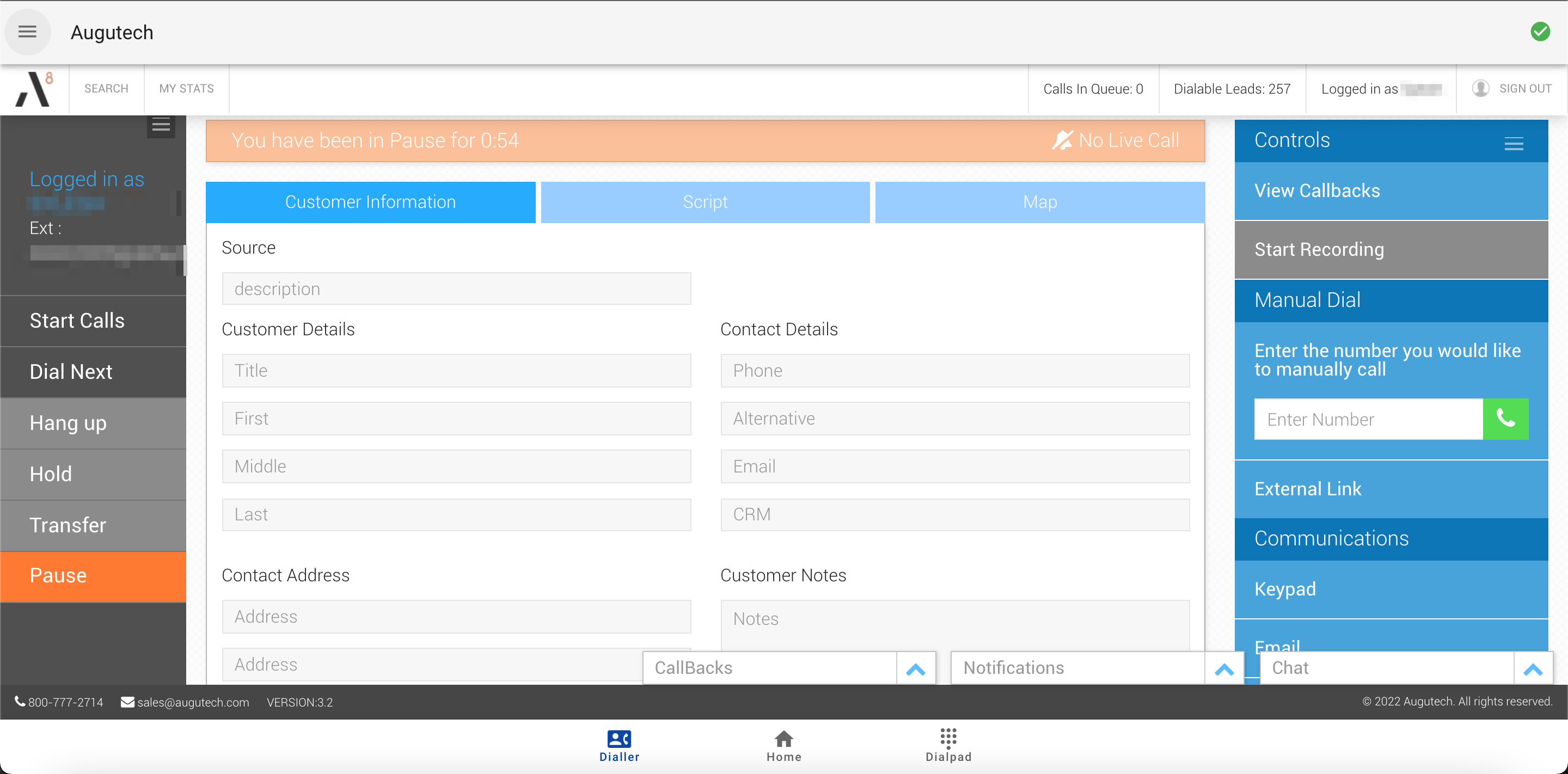 Agent interface
With the AuguTech system, your agents will possess an easy-to-use interface allowing them to automatically make calls, receive inbound calls, set automated call backs, track stats and build on customer profiles.  Sales scripts, Google maps and an internal chat function are accessible for all agents. 

Accelerate & Control
AUGUTECH DIALING METHODS
The AuguTech comprehensive dialer system has proven to connect agents to more calls and increase agent productivity, while driving operational efficiencies.  Options of dialing methods are available for managers to select their preference in contacting leads effectively.  Whether managers want to throttle their system, cruise their system or manually dial on their system, at the click of a button, managers can modify their campaign to dial in various methodologies.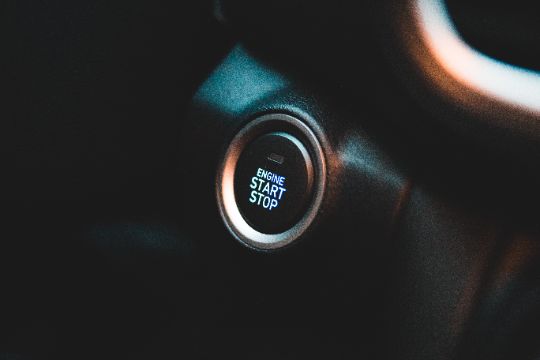 Power mode - accelerate
AuguTech's Power dial provides administrators with the ability to manually set a desired dial speed. Putting the power in the hands of the manager, this speed can be monitored and adjusted accordingly with the contact and abandon rate.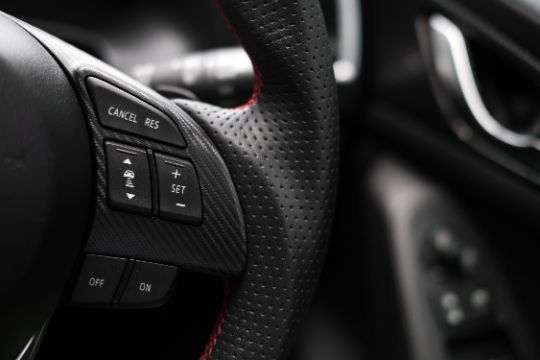 predictive mode - Cruise 
Utilizing AuguTech's sophisticated system algorithms, the dialer will automatically increase or decrease the call rate based on number of available agents, available lines, average campaign call time, abandonment rate, lead history, and key statistical information.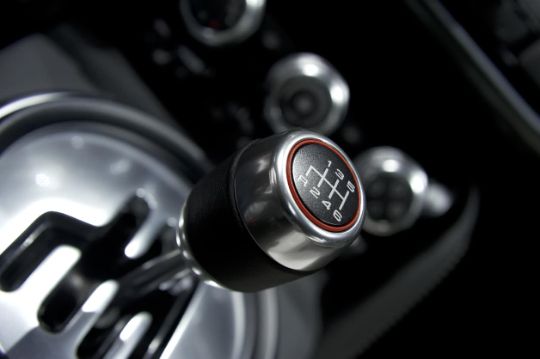 preview mode - Manual
"Click-To-Dial" as it is also known, unlocks a full view of customer history and information for the agent to view before manually placing the call.
AuguTech inbound solution
Deliver an exceptional, personalized experienced with AuguTech's inbound and switchboard solution. With AuguTech's omnichannel routing, custom call queues and intelligent IVR, customers can reach appropriate departments and speak with appropriately skilled agents seamlessly.  Further enhancements can be made to divert or overflow callers to customizable queues.  AuguTech's inbound solution can successfully accommodate virtually all operational processes.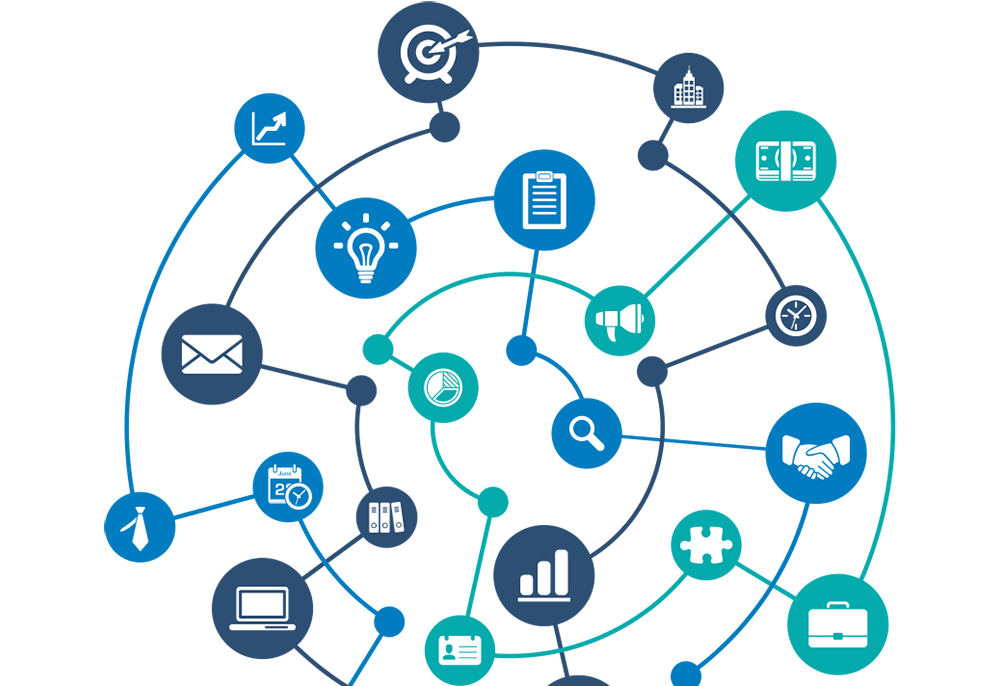 omnichannel Routing
By utilizing AuguTech's inbound omnichannel routing capabilities, your agents will be equipped to deliver exception customer service. With AuguTech's workflow management, intelligent skill-based routing can be seamlessly configured to deliver calls to your highest ranked agents.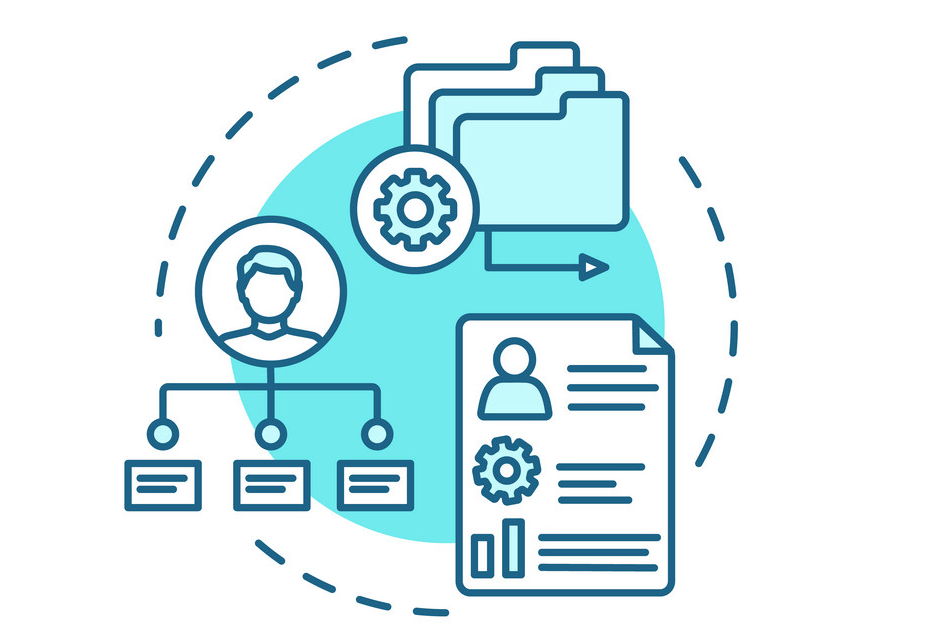 customer data & Screen pop
Customer information will be automatically presented to agents before they engage; AuguTechs intuitive interface and CRM "screen pops" provide agents with the customers details they need to personalize their experience.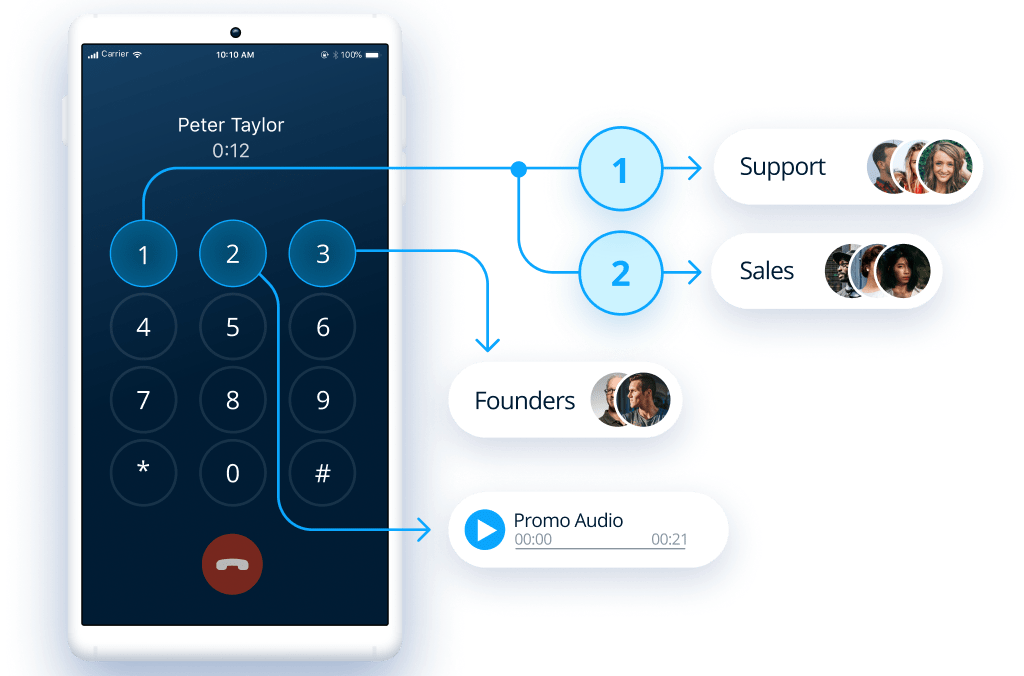 Queues & Intelligent IVR
Custom inbound queues can be configured to deliver inbound calls directly to agent inbound groups, overflow to different departments or divert to third parties.  Through unique IVR's, customers are able to select the department they are trying to reach and be delivered to the appropriate queue. IVR's can be utilized during business hours and after hours. 

Integrated partners
INFRASTRUCTURE & development
Possessing over 35 years of world class experience in building and successfully deploying fully customized CRM & Dialing Solutions, the development team at AuguTech handles the most complex software constructions with ease. With extensive knowledge on back-end & front-end development, our engineers are equipped with the technical prowess to manage intricate system build outs, CRM integrations, with continued system innovation. 
Provide agents with customer information when the interaction is delivered to help them continue the clients journey within the CRM.
Disposition driven or by utilizing a preprogrammed button, agents possess the ability to automatically push and/or create records in the CRM.  
Get the flexibility to integrate with any system to support any workflow with our advanced APIs.
With over 17 years of managing the most comprehensive telecommunication operations, AuguTech has achieved a deep-rooted understanding of the unique business models within each industry. Using this knowledge, the AuguTech system has proven to deliver the highest value to each industry with 3 base models; catering to all business types that have incorporated any form of telecommunication services, and wish to attain the ultimate dialing experience. These base models can be further customized to fit each business.
pricing made easy
AUGUTECH PRICING
We understand that each business is unique and requires custom pricing modules to fit their needs.  Which is why AuguTech provides a simple and easy to follow pricing structure that allows business owners to focus more on their top line and growth without worrying about inflated costs.  With no long term commitments or hidden fees, have confidence in AuguTech as we thrive to earn your business each and everyday. 
Our pricing is based on the number of active agents per month.  Adding new agents is seamless with proration billing.
AuguTech's agreement is month to month and can be cancelled at any time with a 30 day notice.  We strive to earn your business each and every day.
With AuguTech's cloud based solution, all you need to get started are computers, high speed internet and headsets.  No internal servers, IT personnel or maintenance are needed. 
NO HIDDEN FEES OR SURPRISES
Pricing is simple.  Our pricing module includes unlimited dialing plans, unlimited talk time, uncapped dialer speeds, unlimited technical support and unlimited cloud storage of all call recordings for 1 year.  Additional storage can be purchased, or recordings can be pushed to an external SQL database. 
PCI Compliant infrastructure 

AuguTech provides a certified PCI environment for client activity as required. We understand the importance of credit card security and more importantly, we have the ability to develop customized applications to meet the most stringent of PCI requirements involving call recordings, call redaction and call storage requirements. In fact, multiple telecommunications providers in the U.S. have turned to AuguTech to develop, implement and maintain a highly customized PCI compliant call redaction and storage applications.  AuguTech possesses the ability to provide call redaction functionalities to all Accounts ranging from small to medium to enterprise sized organizations.  

From redacting sensitive customer data, to automated DNC scrubs on a Federal, State level, to internal DNC and mobile phone number calling protocols, to pausing/starting call recordings on real time/live calls, AuguTech's System delivers on all fronts.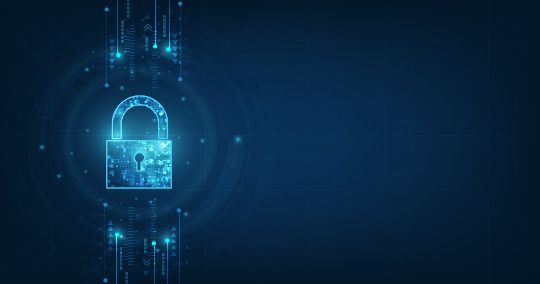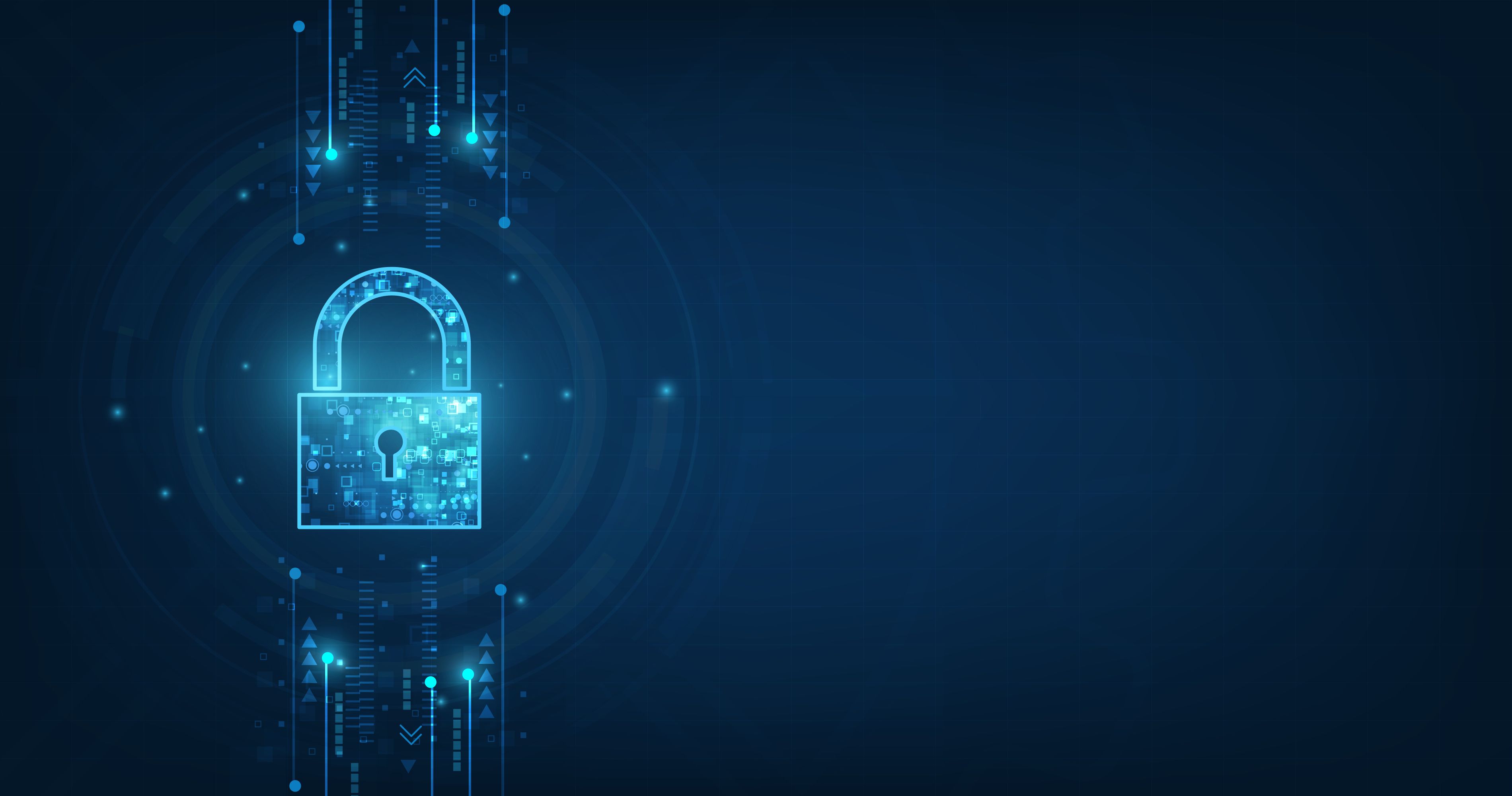 Testimonials
What Clients Say About AuguTech
With AuguTech, you get much more than a comprehensive solution, you gain a strategic partner that will nurture the growth of your business. We've cultivated a culture centred around providing superior customer support/service and continued system innovation.  See what some of our clients have to say!
Since joining AuguTech in Q1 of 2021, I have not had one complaint about "Spam Likely". My entire API lead flow is streamlined. 
AuguTech integrated with my I360 CRM seamlessly. My agents productivity tripled. The AuguTech team is awesome.



AuguTech integrated with my Centrex CRM. I can filter out 90% of answering machines and dial at rapid speeds!



I recommend AuguTech to all MCAs that are looking for a dialer system. I no longer have to deal with Spam Likely effecting my results.
I gave Augutech a shot and they have not only met our requirements, but have exceeded them. The dialer service and support are great.
My experience has been overall very good with reaching more potential customers. I can make 400-500 dials, allowing me to speak with more prospects.
FREQUENTLY ASKED QUESTIONS
Get answers to our most commonly asked questions and learn how AuguTech can grow your business.
WHAT IS AN AUTOMATIC DIALING SOLUTION?
A software that automatically dials from a list of telephone numbers. The system calls multiple numbers simultaneously and automatically screens for busy signals, voicemail, no-answers, and disconnected numbers. The aim is to reduce the costs and disadvantages of placing phone calls manually by removing repetitive and error-prone outcomes. Dialers improve efficiency by over 300%, directly connecting agents to customers as they become available
WHAT ARE THE DIFFERENCES BETWEEN POWER, PREDICTIVE AND PREVIEW?
Power enables managers to manually control the dialer speed

Predictive utilizes AuguTech's algorithm to automatically adjust the dialer speed

Preview, also known as "click-to-dial" allows agents to review the customer profile before making a call.
WHAT EQUIPMENT IS REQUIRED?
Computer (Desktop or Laptop)
USB or Bluetooth Headset
High Speed Internet
WHAT ARE THE MINIMUM HARDWARE & SOFTWARE SPECIFICATIONS?

1.5 GHz Quad Core Processor
4 Gigabytes of RAM & 120 GB Hard Drive
Windows 8 / OSx 10
Internet speed per station 2mpbs upload - 5mbps download
HOW MUCH DOES THE SYSTEM COST?
IS THERE A MINIMUM AGENT COUNT TO START WITH AUGUTECH? 
Augutech requires a 5 seat minimum to get start on the AuguTech system. At 5 seats, you can truly experience the benefits of a predictive dialer application.
CAN I INTEGRATE MY EXISTING CRM / THIRD PARTY APPLICATION SEAMLESSLY WITH AUGUTECH?
As long as your CRM/Application provides open API documentation, the AuguTech system can be seamlessly integrated.


Contact 

Contact Us

AuguTech appreciates your interest in experiencing the ultimate contact center solutions.  We strive to provide the best service to our clients. After filling in the form, you will receive a confirmation from our team. Please allow 30 minutes for your live demonstration.  A member of AuguTech's product specialists will guide you through the demonstration in real time, answering any questions you may have.